The Super Billiards Expo is a big place – over 225,000 square feet of billiards! As a Player, you'll be immersed deep in the heart of things. 
It can be a bit overwhelming upon arrival, especially if it is your first time. So, we've made this handy guide as a reference. 
PLEASE NOTE:  If you are in the TAP League Rally in the Valley, your player Registration is held in Hall C. These instructions are for players in the Players Championship Series of Events. We'll add some notes for TAP League here shortly.
When you arrive at the Greater Philadelphia Expo Center, you're gonna see a lot of cars. Like, a lot.  (Unless you're one of those early types) 
Drive around the lot until you spot Hall A. This is the Main Entrance. Good luck finding a close place to park! 
So, after you've parked and made the journey through the lots, come on in! 
When you come in, you will see along hallway in front of you towards the left – that's the Expo.  There will be a Box Office in front of you and a room to your right. This is the Player Registration and Badge Pickup Area. 
In that room, you'll see a few kiosks with signs indicating a name range, alphabetically. For example, kiosk 1 might say "Adams – Dilbert" and kiosk 2 might say "Domino – Humperdinkle", and so on. If you're last name falls between Adams and Dilbert alphabetically, e.g., Baker – then stand in Line 1 
You are welcome to make some new friends, or just stand and stare at your phone – we don't mind! It gets a little busy at some key times, but we do our best to keep your wait time down. 
You'll need some sort of identification to pick up your badge. 
We're not too strict – we just need to verify you're the player. So, please have something legit. Drivers license is preferred. 
Your Player Badge will indicate all the Events we have you registered for – so, if you notice a discrepancy, please let us know so we can get that resolved immediately.
Secure your badge, head down the hall, and enjoy the show!
Remember – don't lose your badge. It is your pass for all four days of the show as well.
You will need it to get in each day. You can pack it away in your case, put it in your pocket, whatever you want – you only need to show it to get in each day. If you lose it, or forget it, it will not be replaced for free.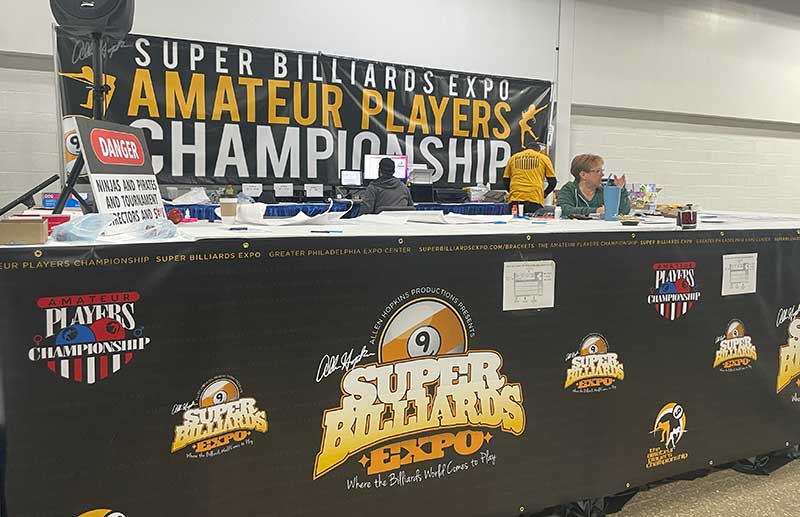 The Amateur Tournament Desk will be inside, to your right, along the back wall
Once inside, enjoy the show! There are over 150 vendor booths full of cues, apparel, accessories and more.
There is a Pro Arena to your left here, when you first walk in. You'll need an additional ticket for that – they are available at the Box Office.
Your Player Meeting will be by the Tournament Desk. Players Meetings are an hour before your respective event start time. 
Have fun! If you need assistance, just ask.
You'll see our Staff Members throughout the venue, identifiable by their red STAFF Badges. Our staff is comprised of friends and family, most of which have been helping out the show for many years. We all come together once a year for this special event, and we hope you enjoy it as much as we do. 
If you have any questions, you can call (609)652-6116 or use the from provided here on the Contact Us page. 
REGISTRATION/BADGE PICKUP
(no access to Expo or Tables until 5PM)
Thursday 
8:00 am – 8:00pm
Friday 
8:00 am – 7:00pm
Saturday 
8:00 am – Noon
If Registration Room is closed, you can get your badge at the Box Office Window during normal show hours (11am – 8pm Daily)
*You may come at noon to get your badge, but no one is allowed into the Expo or Playing Arenas until 5:00pm. We open registration at noon so you can come get your badge early to avoid lines, ask questions, say hello, etc. 
Player Meetings are in the Amateur Player Arena, Hall A
*You may come at noon to get your badge on Wednesday, but no one is allowed into the Expo or Playing Arenas until 5:00pm.